Ultralite and then some!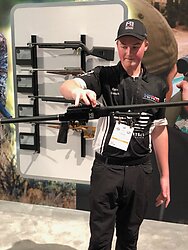 They say a picture is worth a thousand words…
One of the many reasons I enjoy SHOT Show the reaction attendee have to new products. This year was no different. The looks as customers picked up our Ultralite Rifle in a ModShot Chassis were priceless. They would turn to their friends and say "you have to hold this!"
This year's show gave us the opportunity to introduce what is, without question, the lightest rifle we have ever manufactured. It weighs in under 4 lbs!
So what's behind this lightweight phenomenon?

Its our Ultralite barreled action featuring: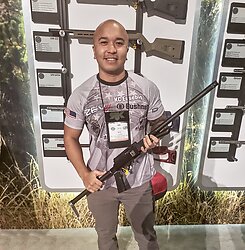 We then take this barreled action and drop it into the innovative ModShot stock chassis that features:
CNC-machined billet aluminum chassis
Buttstock made from a combination of carbon fiber and aluminum
Ergonomic carbon fiber foregrip
Adjustable foregrip positioning
Adjustable pistol grip positioning – adjustable on 2 positions for finger length/extension
Countersunk takedown screw to align receiver and eliminate drift
The end result is quite possibly the lightest 22 LR semi-auto you will ever shoot! Champion shooter Cole Busch used this exact same set up to capture the Rimfire Challenge World Championship Open Division.
Are you ready to shoot what world champions shoot like KC Eusebio and Cole Busch shoot? Order yours today!
Committed to Building it Better,

Scott Volquartsen