2019 Marks 45 Years! Here's how it all began…
It's incredible to think that 2019 marks our 45th year. With a quarter of the year already past, I wanted to take a minute and reflect on some of memories, stories, and most importantly the many relationships that have been forged. Our mindset is to always look forward and not spend too much time looking in the rear-view mirror. As Babe Ruth once said "Yesterday's home run won't win today's game!"
We do however receive questions whether it be at shows, shooting events, or over the phone regarding our company history.
No, I haven't been around for all 45 years, contrary to what my kids might think I am not quite that old. I did however grow up in the business and have been involved since a very young age.
Our company was founded by my Dad, Tom Volquartsen, back in 1974. Initially, it was nothing more than a hobby that he enjoyed. He would spend his evenings in the basement of a rented house working on finding ways to improve his firearms. As he developed his craft, word soon spread to his friends and they decided they might want some work done as well. The work would range from re-bluing a shotgun, refinishing an old hunting rifle, or improving the trigger on a bullseye pistol.
Before long, he found himself spending most of his nights and weekends trying to stay caught up on his "hobby." Dad was always trying to find a better way and was very fortunate to receive some help along the way from guys like Bob Brownell, who was always willing to offer any advice he could.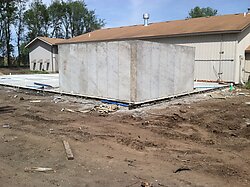 First remodel on our original shop. Fast forward to 1984, we had recently moved to an acreage that had an existing building on it that Dad could turn into his shop. This gave him the room he needed to move from a bench-top lathe and mill to something a little heavier duty. It wasn't until 1986 that he decided it was time to take the leap from a part-time side business to full-time business. I can only imagine how stressful it was for Mom and Dad with four kids to give up the security of his prior job.
Something I will never forget is the short time that our only transportation for our family of 6 was a VW Beetle … but that is a story for a different time. Let's just say it was a little cramped!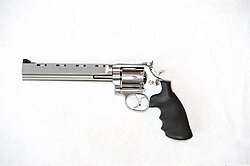 In the late 80's, Dad was fortunate to have numerous articles appear in several of the major gun publications. This provided the springboard that he needed at the time. In 1989, he had the honor of appearing on the cover of American Handgunner. This started a demand that would change the course of business.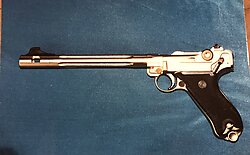 Up until that point, Dad had spent his time working on all makes and models of firearms. Everything from re-bluing shotguns to customizing Lugers and everything in between. However, as a two person shop (Mom in the office and Dad in the shop) it had become too much to keep up with. Was it time to make a change?
Keep an eye on your inbox as we'll be sending part 2 of our history next Tuesday.
Some of our best legacy parts for the 10/22 rifle can be found here. In addition, Ruger MK II or MK III parts can be found here.
Committed to building it better,

Scott Volquartsen