Fixing it when it's not broken
You've always been told "if it's not broke, don't fix it!"
I disagree - what good ever comes from standing around being complacent?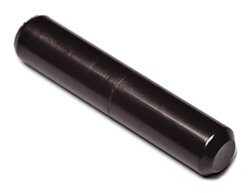 Our mantra is "build it better" and as I have discussed before this applies to each and every part we manufacture. Our Recoil Buffer for the 10/22 is no different. We have sold hundreds of thousands of these buffers since they were introduced more than 20 years ago and while those have always performed as intended that doesn't mean there isn't a better way to manufacture it.
Contrary to popular belief, not all polyurethane products are created the same. This is why we're now manufacturing our Recoil Buffer from ML6®. While raw polyurethane is adequate for some applications, its limitations do not allow for precision casting, chemical and structural stability over time, qualities of friction and wearability, and other elements that make ML6® a superior choice.
What does this mean for you?
Precision casting means tighter tolerances offering a better fit
Chamfered edges for easier installation
Increased durability designed to withstand the thousands of rounds of rimfire we love to put downrange
Improved composition designed is not affected by any cleaners or lubricants
Over 90 durometer on the shore A Scale
Our redesigned Recoil Buffer for the 10/22 comes with a lifetime warranty and will be the last recoil buffer you ever need to buy.
In stock and ready to ship so order yours today!
Committed to Building it Better,

Scott Volquartsen