As we mentioned last week, it's incredible to think that 2019 marks our 45th year. If you missed the first part of our story, click here and you can catch up. When we left off Dad had just had the honor of being featured on the cover of American Handgunner and was spending time working on all makes and models of firearms. However, as a two person shop (Mom in the office and Dad in the shop) it had become too much to keep up with.
It was early 1991 when Dad decided he needed to narrow his focus and channel his energy into one area. He saw potential in the rimfire market and decided that is where he wanted to be. It may seem hard to believe to younger shooters but the 10/22 market was not always what it is today. It definitely wasn't common to invest money in significant parts upgrades for a rifle that, back then, cost under $100.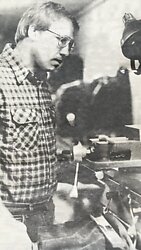 I was in the middle of high school but old enough to start understanding the business side of things. I remember Dad meeting resistance on all sides trying to push the aftermarket parts for the 10/22. Barrel makers at the time were unwilling to make a small batch of barrels to Dad's specs as they saw no potential in it. Eventually when he found a barrel maker to take a risk with him, he then met resistance with our dealers/distributors at the time. It wasn't uncommon to hear "sounds like a nice product but nobody is going to pay that to upgrade an inexpensive 22."
There are a lot of adjectives that can be used to describe Dad but one that fits him best might be stubborn! In this case, it served him and the rimfire industry well seeing what the 10/22 market has become.
Business was booming but even so there were set backs as we suffered a fire in 1991 and then another one in 1997 that burnt us completely to the ground. It was time to rebuild and get back at it.
After spending six months building a new facility, ordering new equipment and trying to rebuild old fixtures we were back in production. Things were changing though. We were transitioning from custom gunsmithing and aftermarket parts to production of complete rifles. Manual mills and lathes had been replaced with CNC equipment and production processes were put into place.
Yesterday, April 30th, was Dad's 70th birthday so if you have any memories, photos of builds, or just want to wish him a Happy Birthday just reply to this email and we'll make sure he sees it.
Committed to building it better,

Scott Volquartsen