Black Mamba vs Scorpion
Black Mamba or Scorpion? This seems to be the question everybody is asking. The good news is there is no wrong answer!
So why would you choose one over the other? First, let's take a look at what the two have in common: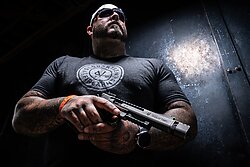 Stainless steel match barrel with a stainless steel breech - The stainless steel barrel provides us with the accuracy we are looking for in a lightweight barrel design. The stainless steel breech is an added benefit that is designed to withstand years of shooting. Simply put, these barrels are built to last and built to perform.
Barrels are threaded 1/2 x 28 - This makes it easy to install a compensator (standard option on many models) or suppressor. Please note non-threaded models are also available.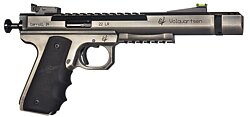 Scorpion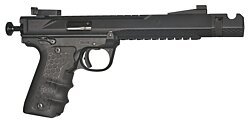 Black Mamba
Both models are available in a 4.5" and 6" Model - Why one over the other? Many of our rimfire steel competitors prefer the lighter 4.5" model as they feel it is easier to transition from one target to the next. The 6" model however will provide increased accuracy at distances beyond 25 yards.
Crisp, clean, 2.25 lb trigger pulls - Our Accurizing Kit is installed as a standard feature on every pistol we build. The commbination of wire-EDM cut and CNC-machined internals make all the difference.
Competition Bolt with DLC Finish - We have been so impressed with the DLC finish on our bolts that we have started to incorporate it into more and more applications. This finish requires minimal lubrication and makes cleaning quick and painless. This finish when added to our CNC-machined bolt, SureStrike Firing Pin, and Exact Edge Extractor provides the ultimate in performance and function.
Integral Picatinny scope mounting rail - No need to worry about mounting a rail or scope mount as we have CNC-machined the rail integral to the upper.
So how are they different? There is not much difference between the two pistols other than the lower frame.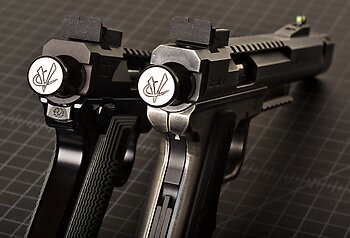 Mamba (MK IV takedown) vs Scorpion (MKII/MKIII takedown)
Our Black Mamba is built on the new Ruger MK IV 22/45 polymer frame. This frame features the push-button disassembly - a feature that shooters have been looking for since the original MKI was introduced 70 years ago. The bottom accessory rail while optional on the Scorpion is machined integral on the Black Mamba.
The Scorpion features a CNC-machined aluminum frame that is then Type III hard anodized. This frame is available in both a 1911 style configuration as well as our Target 22 style frame. These frames do utilize the older mainspring lever takedown similar to the Ruger MKII/MKIII pistol.
So which one is better? That's like asking me which one of my kids I like more. Truthfully, the answer could change depending on the day that you ask me.
It really comes down to a personal preference based on the takedown process on each, combined with the frame design. Both pistols are competition ready and will perform at the same level whether they're being used for competitive shooting or plinking.
Committed to Building it Better,

Scott Volquartsen