Less cleaning, more shooting
Are you looking for a be-all and end-all fix for your Ruger 10/22?
Our Competition Bolt for the Ruger 10/22, 10/22 Takedown, Ruger Charger could be just that. It's CNC-machined from billet material. We take care of machining it to tolerance so you don't have to. That means you don't need to worry about setting headspace, squaring up the face, or anything else fun like that.
The bolt also features our heavy-duty pinned in extractor as well as our round titanium firing pin. Why a round firing pin? This is done to ensure more consistent cycling back and forth in the bolt and eliminates any up and down movement that can be found in most 10/22 bolt designs. In addition to the round firing pin design, we have shortened up the distance the firing pin needs to travel within the bolt. This improves lock time for the shooter. This reduced distance allows us to use the lighter titanium material without the risk of seeing light hits.
We didn't stop there on this bolt. The Competition Bolt features the same DLC Coating (Diamond Like Carbon) that is used on our Pistol Competition Bolts.
We did our research and tested many coatings that claimed to be the best. This DLC coating has been tested through the rigors of competition and has proven itself time and time again in all areas!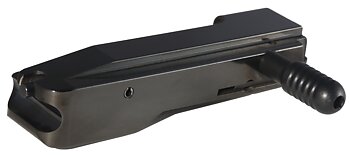 Why is DLC Coating different from the others? Here are the major advantages:
Very low coefficient of friction (as low as 0.02 with minimal lubrication)
Coating is uniform in thickness
Coating exhibits extremely high chemical resistance (very low porosity)
Nothing sticks to it
So what does this mean for your 10/22? It means improved cycling, less lubrication and very minimal cleaning. When we say minimal, we really mean it - a quick wipe down and you're good to go!
For those of you that love to shoot suppressed, this bolt is an absolute must. As you know, shooting rimfires suppressed typically means excessive build up of residue in the action. This leads to more lubricant which unfortunately means even more build up. The minimal lubrication required on this bolt means less cleaning and more shooting. Regardless of how many rounds put down range, all you have to do is wipe the bolt clean.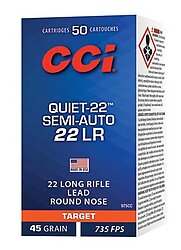 As an added bonus for those asking our Competition Bolt works flawlessly with the new CCI Quiet-22 Semi Auto ammo rated at 835 fps. Please note: If you are looking to shoot the CCI Quiet 22 LR rated at 710 FPS you will still need to use our Firefly Bolt. However due to the release of the new CCI Quiet-22 Semi-Auto these bolts will be discontinued and have been moved to our Clearance Page. If you would like to shoot the CCI Quiet rated at 710 fps this is your opportunity to save!
The Competition Bolts are in stock and ready to ship. Upgrade your 10/22 today!
Committed to Building it Better,

Scott Volquartsen