2019-02-02 by Scott Volquartsen
Ultralite and then some!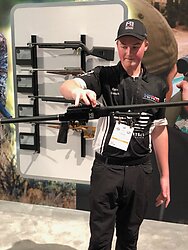 They say a picture is worth a thousand words…
One of the many reasons I enjoy SHOT Show the reaction attendee have to new products. This year was no different. The looks as customers picked up our Ultralite Rifle in a ModShot Chassis were priceless. They would turn to their friends and say "you have to hold this!"
This year's show gave us the opportunity to introduce what is, without question…