Frequently Asked Questions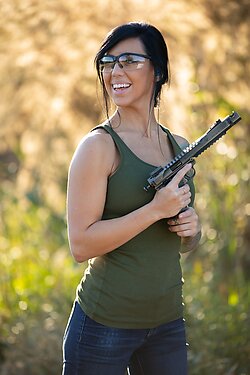 If you don't see your question below, let us know and we'll get your our best answer.
Do you offer a military or law enforcement discount?
Yes! Visit our military discount page for more information.
Can I get notified when clearance take-off uppers are back in stock?
Yes you can! Visit Our Replacement Upper Page for more information.
How can I register my new firearm?
Visit our Product Registration page.
How can I get a manual for my firearm?
Download them below!
How should I package my RMA?
Please return all products as originally packaged.
Firearms, specifically, must be shipped in a hard case. If you do not ship your firearm in a hard case, we are required to sell you one before shipping it back.
Are your compensators removable?
Yes, all of our comps are threaded on using 1/2 x 28 TPI, using right-handed threads. We do our best to machine these compensators to give them the appearance that they are an integral part of the barrel.
How should I clean my firearm?
We recommend a pull through type cleaning kit for all Volquartsen barrels. The Ripcord from Otis is what we use in our shop. We always recommend breech to muzzle cleaning. Failure to do so will void your factory warranty.
For more information on cleaning, see the articles below:
Are TG2000 triggers adjustable?
The TG2000 trigger guards are adjustable for overtravel and pretravel but not for pull weight.
Why won't my new 10/22 barrel fit into my receiver?
We cut our barrel shanks oversized by .0025" to give us a very tight fit into the factory receiver. This tight fit prevents the barrel from canting downward as the locking block is installed.
We recommend using a blow dryer or heat gun to gently heat your receiver prior to installing. Heating the receiver will expand the bore and make installation easier.
Are Volquartsen rifles built on existing actions?
No, we CNC machine our receivers from solid billet material.
What warranty do you offer?
Our warranty is available here
Please Note
All references to 10/22 are a registered trademark of Sturm Ruger.
All returned items may be subject to a 25% restocking fee.
Volquartsen Firearms is not responsible for typographical errors.
Actual products may vary slightly from photos. We are constantly improving our products and some improvements may change appearance of product.