Your Questions - Answered 001
We live in a world where it is easier than ever to find an answer to just about any question you can come up with. The challenge lies not in finding an answer but finding the correct answer.
In an effort to provide a clear answer to some of our most commonly asked questions we are going to pick 2-3 frequently asked questions and answer them in an easy-to-understand, straightforward manner.
Can I shoot copper plated bullets through my 22 LR barrel?
In one word - yes! In fact, many of our competitive shooters shoot CCI Mini Mags (or similar ammo) through both their Volquartsen rifles and pistols. I would venture to guess many of them will put more rounds downrange in a year than most of us do in five years. Many of our shooters send their firearms to us after their season so that we can give them a once-over in the off season. In our inspections, we have found no issues with copper plated bullets being shot through our firearms or barrels.
Where should I mount my red dot on my pistol?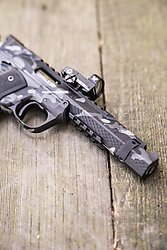 Ask 10 different shooters and you may hear 10 slightly different answers. Most red dots have infinite eye relief (the distance from the sight to the shooter's eye). This means you can mount them anywhere on the rail and the optic will work as intended. Which is why I would say it comes down to shooter preference. One thing to note when mounting your red dot is to avoid mounting it directly over the ejection port. We have had a couple of customers lately with extraction issues. After diagnosing what was going on, we found the red dot placement was in the way of the spent cases.
Most competitive shooters are in agreement that when mounting a red dot on a rifle: further forward seems to be best if you are looking for speed.
Will the new Volthane Grips for the Ruger MK IV be available in left hand? How about for the 22/45 MK IV frame?
The Volthane Grips for the Ruger MK IV will currently not be available in left hand or for the 22/45 frame. We will never say never on these being available in the future. Each particular version of this grip requires new molds and tooling, so we felt it was best to put our resources into what we felt would be most popular and move forward from there.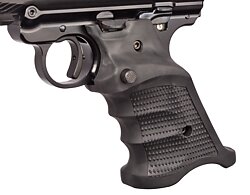 Just a reminder we are offering free shipping on preorders of our new Volthane Grips for the Ruger MK IV placed through March 31, 2020.
Do you have a question you want answered? Respond to this email or hit us up on social media using #askvolquartsen and we will do our best to either answer it there or in a future email.
If you aren't already following us on social media, find us here:
Committed to Building it Better,