What's your why?
Do you remember your first time behind the trigger?
For many of us, regardless of how many years it's been, we can tell you where and how we were introduced to shooting. It's just one of those events that isn't forgotten.
As I overheard a conversation between two gentlemen discussing their introductions to shooting, I was reminded of that very fact. Their discussion then shifted into what keeps bringing them back.
The thrill of pulling the trigger elicits a feeling that is hard to describe.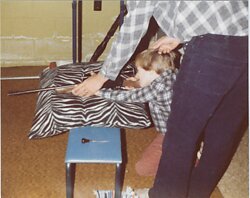 It's been almost 40 years but I still remember shooting an air rifle in the basement of my childhood home. Dad had set up a mini-range with bullet trap down there for test firing and I will never forget when it was my turn. You would have thought I was handling a 50 BMG with the way I approached the bench. Oh and when I say bench, it was literally an old weightlifting bench that Dad had makeshifted into a shooting bench. It wasn't perfect, but as a 5-year old kid there it couldn't have been any better.
I am a little older, I've upgraded my bench, and the rifle of choice has changed but that "feeling" I had as a giddy 5-year old kid remains the same!
Have you ever thought about your "why?"
Why did you get into shooting?
Why do you keep coming back?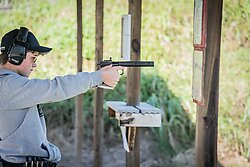 Looking ahead, August is the NSSF's National Shooting Sports Month. There's no better time than now to introduce someone new to the shooting sports and let them discover their why!
If just one in three of America's recreational shooters adds one new person to the shooting sports, we'll secure a strong future for generations to come. To learn more about how to plan your range day or how to ask a friend to go, visit the +ONE Movement website.
Let's go!
Committed to Building it Better,