These Items Are Back In Stock!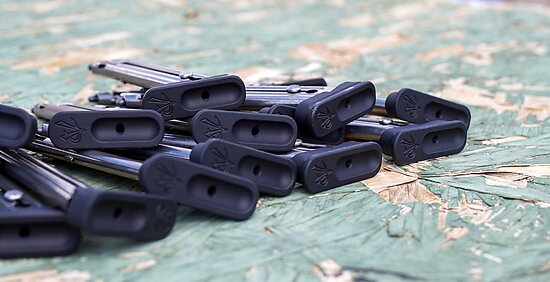 Extended Magazine Release and Base Pad Kit for Ruger® MK IV 22/45™
Every competitive edge is essential. Our Magazine Base Pads for the MK IV 22/45 make magazine insertion and removal quicker and easier-for lightning fast reloads. You don't have to be a competitive shooter to enjoy the benefits of our Magazine Base Pads. CNC-machined from billet aluminum, these base pads will make those days at the range even more enjoyable as you switch magazines with ease. These will work with factory magazines and will also convert any Ruger® MKIII magazine into a Ruger® MK IV 22/45™ magazine.
Our Ruger® MK IV 22/45™ Magazine Release allows the magazine to sit higher in the frame. This improves feeding by preventing the bolt from sliding over the round in the magazine. It's also knurled for both aesthetics and feel.
Ultralite Barrel Configurations

The Ultralite barrel is a lighter weight version of our THM Tension Barrel that has set the standard for lightweight barrels. It has been taken one step further and made even lighter! Our Ultralite barrel was specifically designed for rimfire steel shooting. Its extreme lightweight design allows the shooter to transition from one plate to the next faster than ever.
With the addition of increased machine capacity and a number of team members, product availability is improving.
These parts are popular among a number of competitive shooters who will be competing at the RCSA Rimfire Challenge World Championships in two weeks. Be sure to order yours today!

    —Marketing Director