Auction To Benefit Firearms Policy Coalition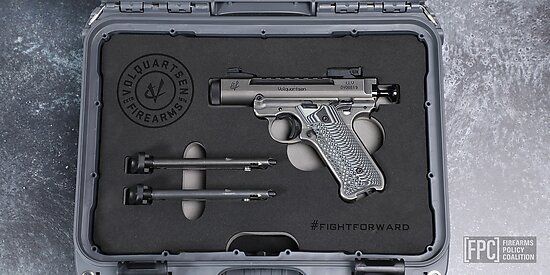 This Battleworn Mini Mamba-TF is the first of its kind. The proceeds from this auction will benefit Firearms Policy Coalition [FPC]. FPC is a coalition of hundreds of thousands of Patriots organizing to take back our Constitution and defend the inalienable, fundamental, and individual right to keep and bear arms.
We believe NIB Battleworn® finish is fitting as we #fightforward in defense of our God-given Constitutionally protected liberties.
This Battleworn Mini Mamba-TF features a 3" threaded LLV upper designed with a stainless steel barrel, laser hardened stainless steel breech, housed in an aluminum shroud. The Volquartsen Competition Bolt is standard.
This pistol utilizes the Ruger® MK IV™ standard aluminum frame that has been retrofitted with the Volquartsen Accurizing Kit providing a crisp, clean 2.25 lb trigger pull.
The Gray Black Slash & Burn G10 grips perfectly compliment the Battlework finish for an even more agressive look. Custom NANUK case included.
Add this pistol to your collection today while supporting an incredible organization in the ongoing battle for our Second Amendent liberties.
---
This weekend - NRA Annual Meetings & Exhibits!
NRAAM kicks off this Friday, May 27th!
We are excited to return to the NRA Annual Meetings & Exhibits (NRAAM). The 2022 Annual Meetings & Exhibits will take place at the George R. Brown Convention Center May 27-29 in Houston, Texas. The Exhibit Hall is open all three days and will showcase over 14 acres of the latest guns and gear from the most popular companies in the Industry. From entertainment to special events, it's all happening in Houston over Memorial Day weekend May 27th-29th.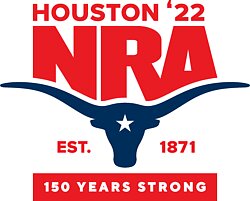 Stop by and see us in booth 2553. You'll be able to check out the new VT2 Takedown rifle, the new ENV pistols, as well as other select firearms from our product line.
On Saturday May 28 we will have an appearance by Fox news contributor, co-host of The Five, and author - Katie Pavlich. Katie will be in the booth from 2pm-3pm.
There will be some additional perks available to show attendees throughout the weekend - keep an eye on our social media for details!

    —Marketing Director