Improve The Trigger Pull On Your 10/22™
Our HP Action Kit is the ultimate high performance upgrade for your factory 10/22™ trigger group. This kit will reduce the trigger pull of your 10/22™ to 2.25 - 2.5 lb.
This kit consists of our target hammer (including shims and bushings), hammer spring, target disconnector, target sear and target trigger Includes polished plunger and spring) with overtravel adjustment. Also included is a recoil buffer to reduce wear on the action and bolt. The HP Action Kit will give you one of the most crisp, clean trigger pulls available.
HP Action Kit Plus features all of the parts listed above and adds our Extended Magazine Release and Auto Bolt Release.
Check out the installation video below or we can install the kit for you.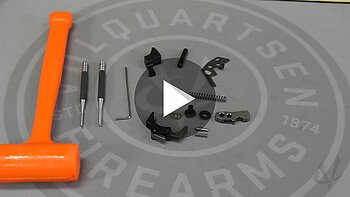 The HP Action Kit is in stock and ready to ship. Reduce the trigger pull on your factory 10/22™ to a crisp, clean 2.25 - 2.5 lbs today!

    —Marketing Director