Our Story
A Different Line of Sight Since 1974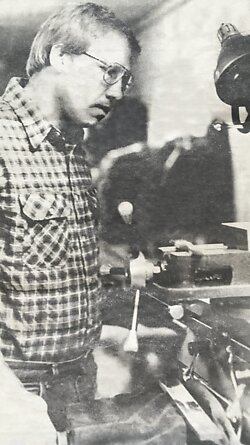 We believe that no one needs another standard anything. As second generation Volquartsens, we're programmed to hold ourselves to a higher standard. To tenaciously push forward with an unwavering persistence.
In short, that's how Dad did it.
In spite of the odds, he built a legacy in one lifetime. Dad founded the company in 1974 from the basement of a rented house with a goal of improving the look and performance of the firearms that were brought to him. Whether he was rebluing a shotgun, refinishing an old hunting rifle, or improving the trigger on a bullseye pistol.
For over a decade, Dad worked nights and weekends developing his craft. It wasn't until the mid-1980s that he decided to take the business "full-time." He worked on all makes and models of firearms, and he was fortunate enough to have several articles appear in major firearms publications in the late 1980s. In 1989, he had the honor of appearing on the cover of American Handgunner. This started a demand that would change the course of the business.
Early on in 1991, Dad decided it was time to narrow his focus and channel his energy into one area. He saw potential in the rimfire market, and through sheer determination he began to lay the foundation for what Volquartsen Firearms has become today.
We'll stop at nothing to build on his vision with every generation to come.
We recognize that "handcrafted" doesn't always mean "well-crafted," and that "Made in the USA" doesn't always equate to quality. It's why we're proud that our guns are designed and engineered to the highest standards, in Carroll, Iowa - using only the best possible materials and technologies.
We steadfastly pursue our passions, while making it a priority to have the humility to listen and adopt new ideas, and to keep pushing forward.
Our Core Values
Heirloom Quality: Built to be timeless
Commit to Innovation: Always learning, growing, and moving forward
Treat everybody like family: Its all about relationships
Do the right thing: When in doubt, start here
Engineer the World's Finest Firearms: Designed for performance and reliability, with no compromises
Excellence is Essential: No exceptions
Each Product is a Promise: A pledge to build each product to the best of our ability
Keep it Fun: In the office, in the shop, and at the range