Team Volquartsen
Don't be afraid to get started! It's an incredible experience and very welcoming to new shooters. Read more about competing on our recent article. To get started in competitive shooting, visit the RCSA Rimfire Challenge or USPSA websites for more information.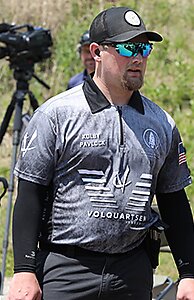 Kolby Pavlock

Carroll, Iowa
Kolby Pavlock was born in Boise, Idaho. After graduating college in the spring of 2020 he relocated to Carroll, Iowa and began doing product development for Volquartsen Firearms.
Currently 23 years old and recently graduated from College of Western Idaho with an Associates Degree in Machine Tool Technology.
He began hunting with his dad at age 3, at age 10 he started bird hunting, and at age 12 started big game hunting.
Also at age 12, Kolby began competing in rimfire and 3-Gun. Then started shooting USPSA shortly after. This season Kolby plans to primarily compete in rimfire and USPSA matches.
Kolby currently shoots a 4.5 inch Scorpion X with a Vortex Razor Red dot and a VT2 with the hogue modular ar15 grip and Vortex Razor Red dot.
One of his proudest accomplishments is being able to defend his Rimfire Challenge World Championship 4 years in a row.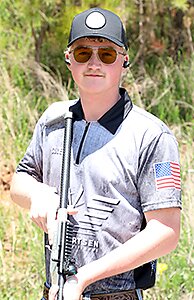 Cole Busch

Northeast Iowa
Cole Busch resides near Cresco, Iowa. He began competitive shooting in late 2016 at an NSSF Rimfire Challenge event. While his focus is Rimfire Challenge and USPSA Steel Challenge he also enjoys competing in USPSA Production handgun and Pistol Caliber Carbine.
He was fortunate to win both the Open and Limited Junior Divisions at the 2017 NSSF Rimfire Challenge World Championship. Cole enjoys weight lifting, martial arts and mountain biking. Cole is planning to serve in the US military special operations community after high school. Watch Cole's video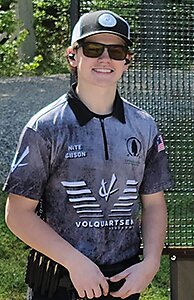 Nate Gibson

Dysart, IA
Nate resides near Dysart, IA. He first started shooting guns when he was 7. He started shooting competitively when he was 12. The match that really got him excited about the sport was the Iowa State NSSF match in 2016. He enjoys having conversations with his fellow competitors and helping anyone that is need during the match. He now competes in Scholastic Action Shooting Program (SASP), USPSA steel challenge and RCSA. He managed to post the fastest time in SASP history in 2018. Some of the things he likes to do outside of shooting are playing basketball, riding ATVs and dirtbikes, hunting, fishing, and playing video games. Nate is an honor student hopes to attend a college with a steel shooting team.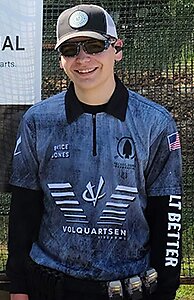 Brice Jones

Van Meter, IA
Brice began competitive shooting in 2018 at the Redfield Iowa Rimfire Challenge match and placed 2nd in the Junior Open Division. After only two matches, he won Junior Open Champion at the 2018 Minnesota State Rimfire Challenge and his excitement and passion for the sport continues to grow. In 2019, in addition to RCSA, he started competing in USPSA Steel challenge and Scholastic Action Shooting Program (SASP). He had a very successful 2019 shooting season highlighted by the SASP National Championship match. At the SASP Nationals, he won 10 national titles. Four of those national titles were team titles by the Iowa Dead Shots and six were individual national titles. He also qualified as a member of the Iowa All-State team that competed which won 2nd place.
Brice is an honor student, achieving a 3.5 GPA or higher.
When he's not shooting, he enjoys playing basketball, participating in his school's FFA chapter and hanging out with friends and family. His plans after high school include attending college and continuing his shooting career.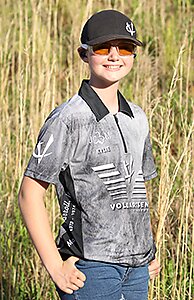 Kylie Wells
Central Missouri
Kylie is 14 years old and resides in Missouri. She began competitively shooting at age 12. One of her favorite shooting sports is Steel Challenge. At the 2021 Steel Challenge World Championship last year, she was second ladies Pistol Optic, and set three women's stage records. Kylie also began shooting SASP in 2021 and went on to winning all of her divisions at Nationals. Some of the other sports Kylie competes in are Rimfire Challenge and USPSA. She considers her family and friends her support system. When she's not shooting Kylie likes to hunt, fish, and play the trumpet.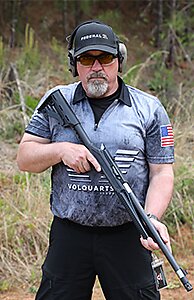 Rick Busch
Northeast Iowa
Rick Busch resides near Cresco, Iowa and began competitive shooting with his youngest son, Cole Busch, in 2016. Rick is a retired state police officer from the Iowa Department of Public Safety. He served as a State Trooper with the Iowa State Patrol Tactical Unit and as a Special Agent with the Division of Narcotics Enforcement.
Rick is also a retired military veteran and served as a USAF Special Operations Combat Control Team (CCT) operator and as an Air Force Office of Special Investigations (AFOSI) Special Agent, Protective Service Operations.
He currently shoots a Volquartsen 4.5 inch Scorpion for Open and a 6 inch Scorpion for Limited handgun divisions. In the rifle divisions he competes with a Volquartsen Ultralite in Open and a Lightweight in Limited division. Rick enjoys competing in both the Steel Challenge and Rimfire Challenge and hopes to participate in Carry Optics and Pistol Caliber Carbine in USPSA.
When not on the competition range he enjoys weightlifting, swimming and martial arts. He now serves as a government contractor and teaches firearms and tactics to law enforcement and military personnel around the country.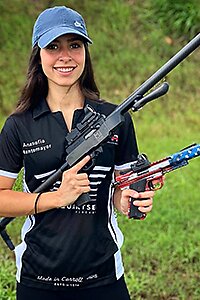 Anasofia Montemayor
Brownsville, TX
Anasofia Montemayor, 18, currently resides in Brownsville, Texas. She began shooting competitively when she was 16 years old. Montemayor has been competing in Scholastic Action Shooting Program (SASP), and has been State Champion for 3 years.
In the 2018 SASP Nationals, she was fortunate enough to win High Overall Female in Rimfire Rifle. This year at SASP Nationals she won 4 High Overalls; Rimfire Rifle, Rimfire Pistol, PCC, and Rifle Optics. She also competes in Steel Challenge.