Team Volquartsen
Don't be afraid to get started! It's an incredible experience and very welcoming to new shooters. Read more about competing on our recent article. To get started in competitive shooting, visit the RCSA Rimfire Challenge or USPSA websites for more information.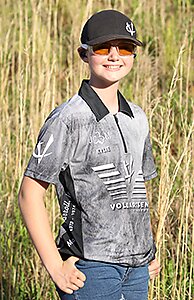 Kylie Wells
Central Missouri
Kylie is 15 years old and began shooting competitively at the age of 12. She primarily shoots steel challenge. She currently holds the women's world record in rimfire pistol iron as well as rimfire pistol optic. She also has 9 stage world records. She does also compete in Rimfire Challenge as well, and at the 2022 RCSA Worlds she won 1st lady Open and 2nd lady Iron. For the past couple years she's also competed in SASP. At the 2021 and 2022 SASP Nationals she won first in all her divisions.
Kylie has also participated in the Missouri Show Me State Games and has placed first in all her divisions. She will occasionally shoot a USPSA match and a little 3 gun. Kylie is a member of her high school's FFA trap team. In 2022 she picked up a little bit of Olympic Sport Pistol and Air Pistol. She has shot Sport Pistol at Nationals and the Junior Olympics and both times placed 2nd in her category. Kylie strives to be a good ambassador of the shooting sports. She's proud to say her dad practices with her almost every day and is her motivation and support.
Outside of shooting. Kylie is active in FFA, achieves straight A's in school and is part of her local Fellowship of Christian Students Club. She is a proud member of the Fayette High School Band, and plays the trumpet. Kylie loves to hunt, fish, and go trail riding.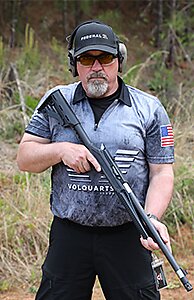 Rick Busch
Northeast Iowa
Rick Busch resides near Cresco, Iowa and began competitive shooting with his youngest son, Cole Busch, in 2016. Rick is a retired state police officer from the Iowa Department of Public Safety. He served as a State Trooper with the Iowa State Patrol Tactical Unit and as a Special Agent with the Division of Narcotics Enforcement.
Rick is also a retired military veteran and served as a USAF Special Operations Combat Control Team (CCT) operator and as an Air Force Office of Special Investigations (AFOSI) Special Agent, Protective Service Operations.
He currently shoots a Volquartsen 4.5 inch Scorpion for Open and a 6 inch Scorpion for Limited handgun divisions. In the rifle divisions he competes with a Volquartsen Ultralite in Open and a Lightweight in Limited division. Rick enjoys competing in both the Steel Challenge and Rimfire Challenge and hopes to participate in Carry Optics and Pistol Caliber Carbine in USPSA.
When not on the competition range he enjoys weightlifting, swimming and martial arts. He now serves as a government contractor and teaches firearms and tactics to law enforcement and military personnel around the country.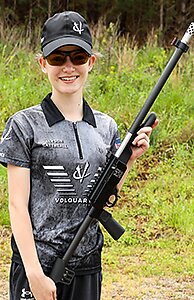 Alyson Battreall
West Texas
Alyson is 17 years old and resides in Odessa, Texas. She began shooting BB competitively when she was 12 and then started competing in precision air rifle.
At the age of 14 she started competing in SASP matches. At the 2022 Texas State match she placed high overall female in both rimfire pistol irons and rimfire rifle optics.
At Nationals in 2022 she placed 3rd high overall female senior varsity in both rimfire pistol optics and rimfire pistol irons. She also helped her team to win the National Championship in rimfire pistol optics in the senior division and second place in rimfire pistol irons.
Alyson also competed in the 2022 Speed on Steel Cactus Steel Challenge in Arizona where she placed first in A class for rimfire pistol irons, rimfire pistol optics, and rimfire rifle optics. She also placed 1st and 2nd in the lady's and junior's division. Alyson has enjoyed building lifelong friendships with the people she has shot with over the years and enjoys meeting new people at each match.
Some things Alyson likes to do outside of shooting are hunting, fishing, and spending time with her friends and family. Alyson is also a National Honor student that plans to attend college and continue her shooting career.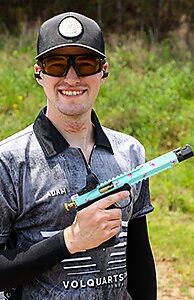 Adam Renno
Northeast Indiana
Adam Renno started shooting in 2013 with Olympic style air and rimfire rifle competitions on The X Count, a local high school shooting team.
After graduation, while studying mechanical engineering, he volunteered as a coach for the program. In 2019 he began shooting pistol for the first time and joined Steel Challenge competitions. He fell in love with the action shooting community and decided to take it as far as he could while meeting fellow competitors around the country. In 2022, he became the Area 5 SCSA champion in rimfire pistol with a time of 60.48s.
Adam takes pride in always being open to help teach others and carrying a positive attitude at events. Off the range he enjoys sailing, hiking, photography, community volunteer work, and fixing things.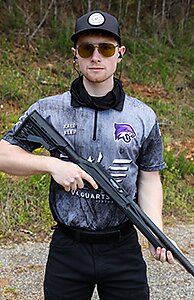 Kaleb Klein
Dysart, Iowa
Kaleb Klein grew up in Dysart, IA. He shot his first firearm at age 5. He is an Iowa Dead Shots team member and started shooting competitively at age 13 in SASP. In the fall of 2023, Kaleb is attending Bethel College in Tennessee and will transition to the collegiate level of SASP as a Wildcat.
Kaleb competes in RCSA, Steel Challenge, USPSA, Metal Madness, and SASP. He plans to branch out a bit more to compete in Metal Madness unlimited, ICORE, and possibly the rapid-fire pistol Olympic competition.
Some of Kaleb´s achievements are four individual rimfire national titles in SASP (three in 2020 and the other one in 2022, two in his limited pistol, one in his optic pistol, and one in limited rifle).
In 2019 Kaleb purchased a new set of Volquartsen pistols less than one week before competing in the World Rimfire RCSA Championship, he was pleased to place in the top ten. He shoots Volquartsen lightweight rifles and six-inch barreled Scorpion pistols.
When Kaleb is not shooting, cleaning firearms, or dry firing, he enjoys spending time with friends, family, and competitors on and off the range. Kaleb's love for the outdoors fed his dream of going to college to become a conservation officer with the Department of Natural Resources.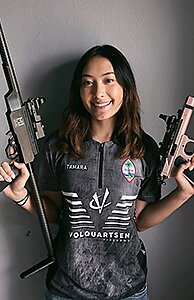 Tamara Sablan
Guam
Bio coming soon!
Thank you to Scott Volquartsen and the entire Volquartsen Firearms family for the opportunity to represent your company! Thank you as well to my other sponsors for your support and your willingness to take me on!
Huge thank you to my dad for introducing me to this awesome sport and for always believing in me and pushing me to be better! Last, but certainly not least, thank you to JTM Sportsland and the entire shooting community on Guam for your endless support!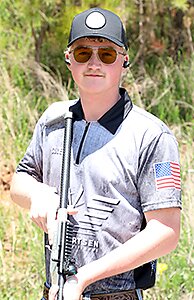 Cole Busch

Northeast Iowa
Cole Busch resides near Cresco, Iowa. He began competitive shooting in late 2016 at an NSSF Rimfire Challenge event. While his focus is Rimfire Challenge and USPSA Steel Challenge he also enjoys competing in USPSA Production handgun and Pistol Caliber Carbine.
He was fortunate to win both the Open and Limited Junior Divisions at the 2017 NSSF Rimfire Challenge World Championship. Cole enjoys weight lifting, martial arts and mountain biking. Cole is planning to serve in the US military special operations community after high school. Watch Cole's video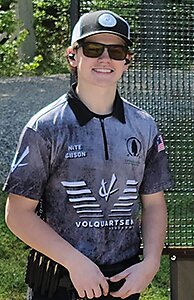 Nate Gibson

Dysart, IA
Nate resides near Dysart, IA. He first started shooting guns when he was 7. He started shooting competitively when he was 12. The match that really got him excited about the sport was the Iowa State NSSF match in 2016. He enjoys having conversations with his fellow competitors and helping anyone that is need during the match. He now competes in Scholastic Action Shooting Program (SASP), USPSA steel challenge and RCSA. He managed to post the fastest time in SASP history in 2018. Some of the things he likes to do outside of shooting are playing basketball, riding ATVs and dirtbikes, hunting, fishing, and playing video games. Nate is an honor student hopes to attend a college with a steel shooting team.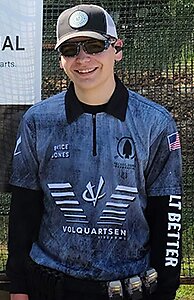 Brice Jones

Van Meter, IA
Brice began competitive shooting in 2018 at the Redfield Iowa Rimfire Challenge match and placed 2nd in the Junior Open Division. After only two matches, he won Junior Open Champion at the 2018 Minnesota State Rimfire Challenge and his excitement and passion for the sport continues to grow. In 2019, in addition to RCSA, he started competing in USPSA Steel challenge and Scholastic Action Shooting Program (SASP). He had a very successful 2019 shooting season highlighted by the SASP National Championship match. At the SASP Nationals, he won 10 national titles. Four of those national titles were team titles by the Iowa Dead Shots and six were individual national titles. He also qualified as a member of the Iowa All-State team that competed which won 2nd place.
Brice is an honor student, achieving a 3.5 GPA or higher.
When he's not shooting, he enjoys playing basketball, participating in his school's FFA chapter and hanging out with friends and family. His plans after high school include attending college and continuing his shooting career.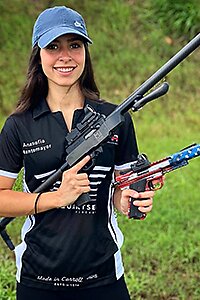 Anasofia Montemayor
Brownsville, TX
Anasofia Montemayor, 18, currently resides in Brownsville, Texas. She began shooting competitively when she was 16 years old. Montemayor has been competing in Scholastic Action Shooting Program (SASP), and has been State Champion for 3 years.
In the 2018 SASP Nationals, she was fortunate enough to win High Overall Female in Rimfire Rifle. This year at SASP Nationals she won 4 High Overalls; Rimfire Rifle, Rimfire Pistol, PCC, and Rifle Optics. She also competes in Steel Challenge.