Team Volquartsen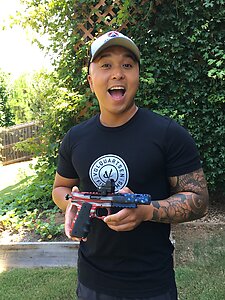 KC Eusebio
KC Eusebio is 29 years old and has been shooting competitively for 21 years. Shooting has always been in his blood, his first match was at the young age of 8. He became the youngest USPSA Master at the age of 10 and the youngest USPSA Grandmaster at the age of 12. By the age of 15, he was the youngest to ever win a world speed shooting title.
When KC turned 18, he enlisted in the US Army and joined the Army Marksmanship Unit. He honed his talent and taught hundreds of soldiers advanced marksmanship skills to help them complete their missions. Soon after, he spent 3 years with Team Glock and became the first person to win a World Speed Shooting Championship with a striker fired, polymer framed pistol. KC continues to instruct military, law enforcement and competition shooters. Watch KC's video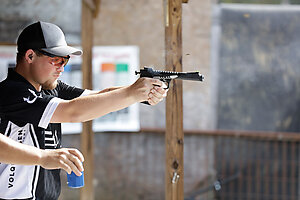 Kolby Pavlock
Kolby Pavlock is an Idaho native and currently lives in Kuna, ID with his parents and sister. He started hunting at age 3 and got started in big game hunting by the time he was 12. He's a senior at Kuna High School and have been taking a precision machining class, with plans to pursue in machining after graduation.
Kolby started shooting competitively when I was 12, competing in rimfire and 3-Gun, followed by USPSA soon after. He loves competing in these shooting sports and wants to continue doing them. He currently shoots a Volquartsen Scorpion and a Lightweight rifle for rimfire matches. Watch Kolby's video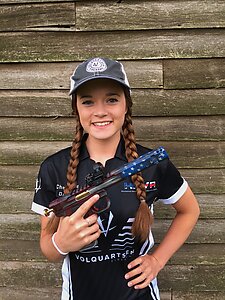 Cheyenne Dalton
Cheyenne Dalton is a 16 year old homeschooler from Missouri. She started her competitive shooting career in 2014 and quickly earned several state level Rimfire titles. Her 2014 season was capped off by a High Limited lady title at the Rimfire world championship. 2015 was another great year for Cheyenne winning several titles including High Lady at the Alabama state Rimfire championship as well as an overall Title at the Wyoming state games. In 2016 she repeated again as High Limited lady at the Rimfire world championship.
When she's not on the range, she enjoys fishing, hunting, and cooking as well as traveling the country with her Bluegrass band "That Dalton Gang." She believes that hard work and persistence are keys to success as well as maintaining a great relationship with her friends, fans, and sponsors. Watch Cheyenne's video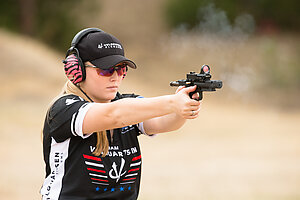 Allie Barrett
Allie "Allie Cat" Barrett-Lathem started shooting at the age of 14. Her first match was the 2011 Ruger Rimfire World Championship where she placed 3rd lady.
Since then, she has went on to be a Multi-State and World Champion. Allie also shoots Steel Challenge, USPSA and 3 gun competitions.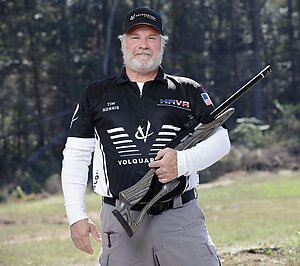 Tim Norris
The first time Tim pulled the trigger was on a family camping trip in the mountains. It was the greatest thrill of my life up to that point and he was forever hooked on shooting. His Christmas gifts when I was 9, 10 and 11 were a .410 shotgun, a .22 rifle and .22 pistol, guns he still has today.
Tim spent 6 years on active duty in the Navy and was exposed to everything from the 1911 to the M2 Browning. When he left the service, Combat Pistol competition was in its infancy and he jumped in with both feet. Tim is most active in Rimfire Challenge, USPSA Pistol and rifle. He loves to compete because it pushes him to improve and he get to hang out with some of the greatest people around.
Chase Orr
Fifteen-year-old Chase Orr live in Bowdon Georgia. He began shooting in 2014 with family friend, and Volquartsen Team member, Ron Oliver. Chase travels nationwide to compete in Rimfire and Steel Challenge events, and has just recently began shooting USPSA and 3 Gun. He has earned a Junior World title in Rimfire Challenge, and a Junior National title in Steel Challenge.
When not at the range Chase enjoys spending time with his family and friends at the lake, fishing, and golfing. He is an honor student and hopes to attend the University of Florida.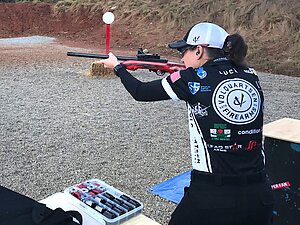 Tina Luck
Tina has always been very athletic and participated in many sports. She grew up shooting, hunting, and fishing with her Dad and always loved to be outside in nature. Tina began her competitive shooting adventure after obtaining her CCW permit in the winter of 2016.
Since then, Tina has fallen in love with competition shooting and has managed several great finishes in a short period of time. Tina wants to be a positive role model for young female shooters, promote the sport, grow the sport, help teach others about firearms safety, and just enjoy shooting!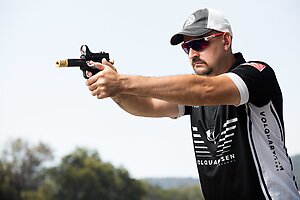 Ron Oliver
Ron has always been an avid shooter, starting like most at a young age plinking with his father. Over the years, he progressed into competing with shotguns in high school. Like most of us, life got in the way of the most enjoyable hobbies. Many years later, some friends invited him to join them at a shooting match after the loss of his father. It was life-changing; he had found something that was not only his therapy, but I have been able to help other shooters along the way.
In 2010, just three months after his first match, Ron won his first state title and has placed in the top five in many more. To date, Ron has won all four U.S. Steel Nationals in Rimfire Rifle and over twenty state and National titles.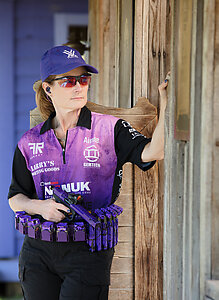 Aimee Williams
Aimee got started shooting in 2012 when her boys took her shooting for Mother's Day! They were very excited and hopeful I would love shooting. That was the beginning. After a few months, she learned about competitive shooting she was hooked.
In the spring of 2013, Aimee started competing at local Steel Challenge Matches with just a pistol. By that fall, she was shooting the Ruger Rimfire Challenge. Today she competes in Steel Challenge, ISSA, Rimfire Challenge, 2-Gun Matches, and USPSA.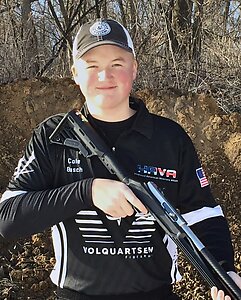 Cole Busch
Cole Busch is 15 years old and resides near Cresco, Iowa. He began competitive shooting in late 2016 at an NSSF Rimfire Challenge event. While his focus is Rimfire Challenge and USPSA Steel Challenge he also enjoys competing in USPSA Production handgun and Pistol Caliber Carbine.
He was fortunate to win both the Open and Limited Junior Divisions at the 2017 NSSF Rimfire Challenge World Championship. Cole enjoys weight lifting, martial arts and mountain biking. Cole would like to serve in the US military special operations community after high school.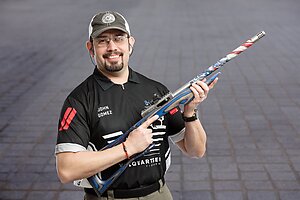 John Gomez
John grew up in a small town in south Texas where he learned the values of family, community, and hard work. At the age of 18 he joined the US Army and after 10 years he pursued a carrier in engineering. During one of his many humanitarian trips to Asia and Thailand, he fell in love with the lady who would become his wife.
Now, John and Wannitsa compete all over America and the World as one of the only Husband & Wife shooting teams that compete in local, state, national and international Rimfire, USPSA, IPSC, Steel Challenge, 2-Gun, Multi-gun and 3-Gun matches.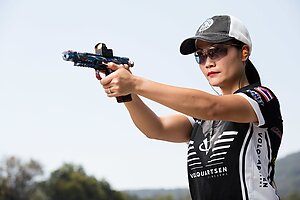 Wannitsa Gomez
Wannitsa grew up on a farm in north Thailand and only fired a weapon once during a Thai Army recruitment visit at her school when she was 13. She was the first and only person to willingly fire a M-16 and a M9 pistol in the whole school.
After coming to America in 2013 with the love of her life John, Wannitsa started competing with her husband at there local match and instantly fell in love with the sport. Traveling and competing with her husband as Team Gomez is a true blessing.